Take control of your forklift operation with our Supervisor Dashboard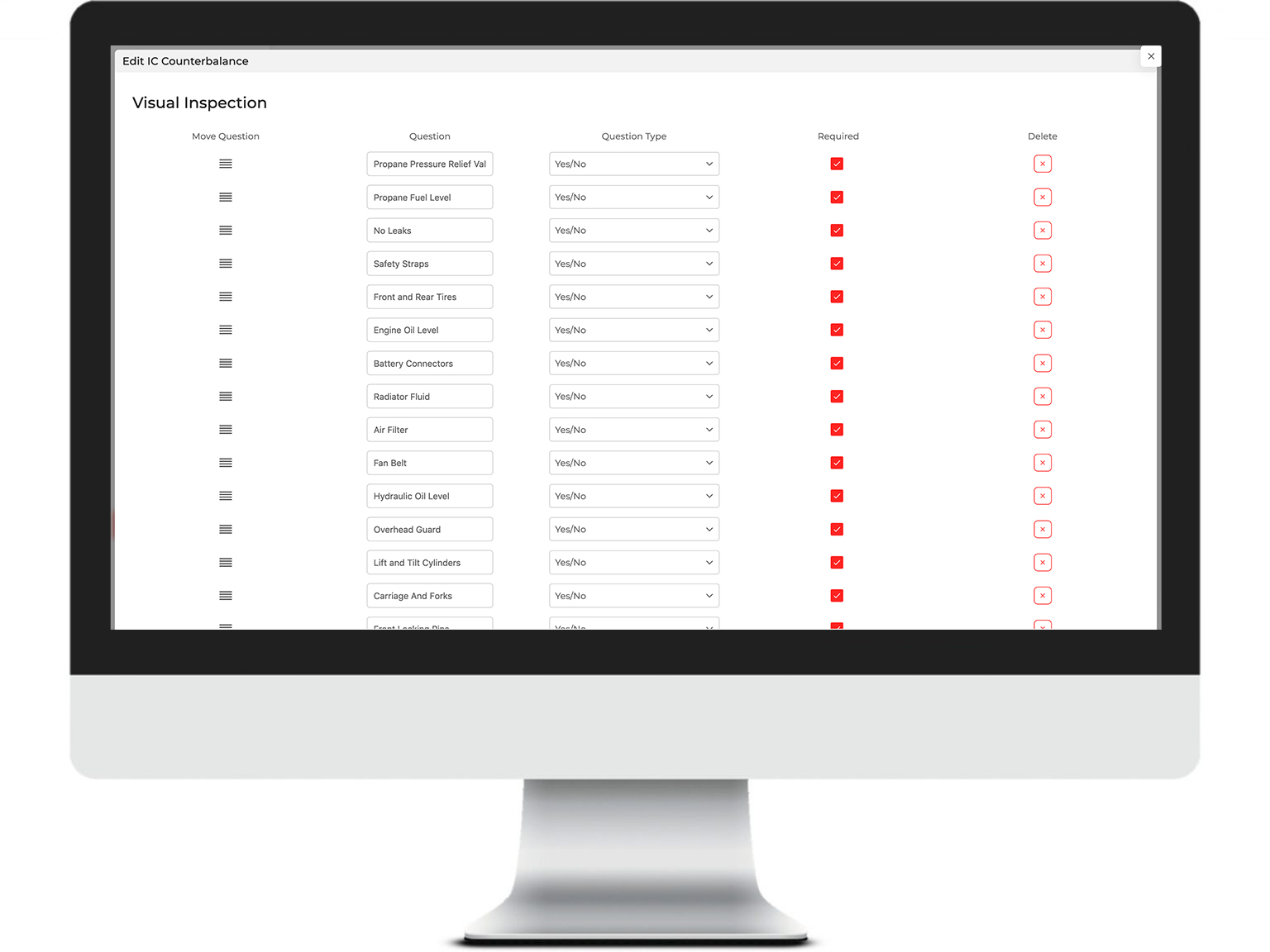 Customize forms for your operation
Not all companies are alike. By default, inspection forms with a general list of inspection items are included. However, the supervisor has complete flexibility to add, delete and edit inspection items that suit the company best. Add bilingual inspection items if English is not the first language of operators, rename forms, hide forms and even create your own inspection forms for other types of equipment. Once inspection items have been customized and updated, the new fields immediately appear in the operator's app.
Identify safety issues and inefficiencies
The supervisor can view all the inspection and report history including any photos that have been added by the operator. Detailed analytics reports show historical data sorted by unit or operator in order to identify concerning trends. The supervisor can even view data on the most common causes of failures as well as actual running time utilization.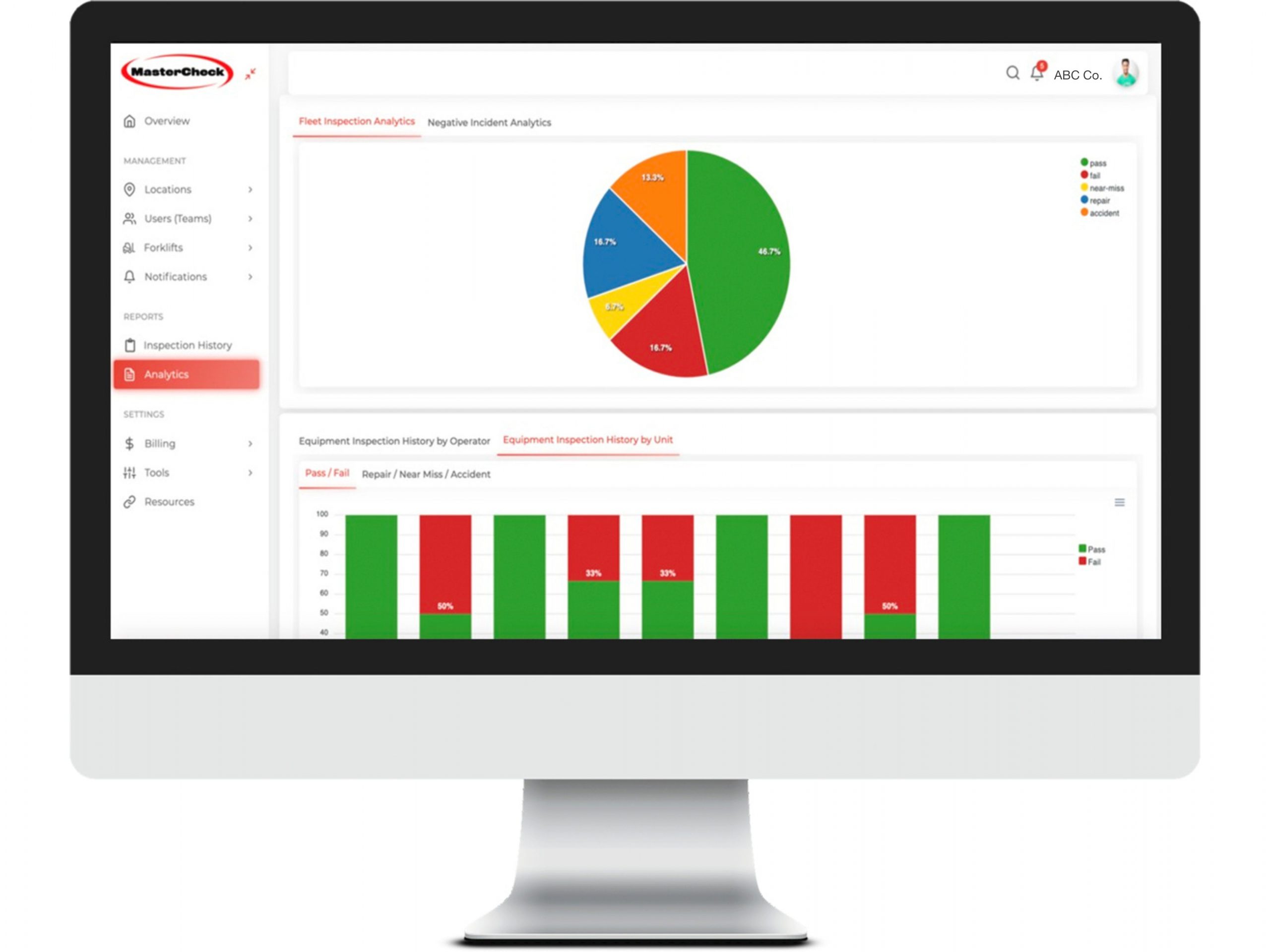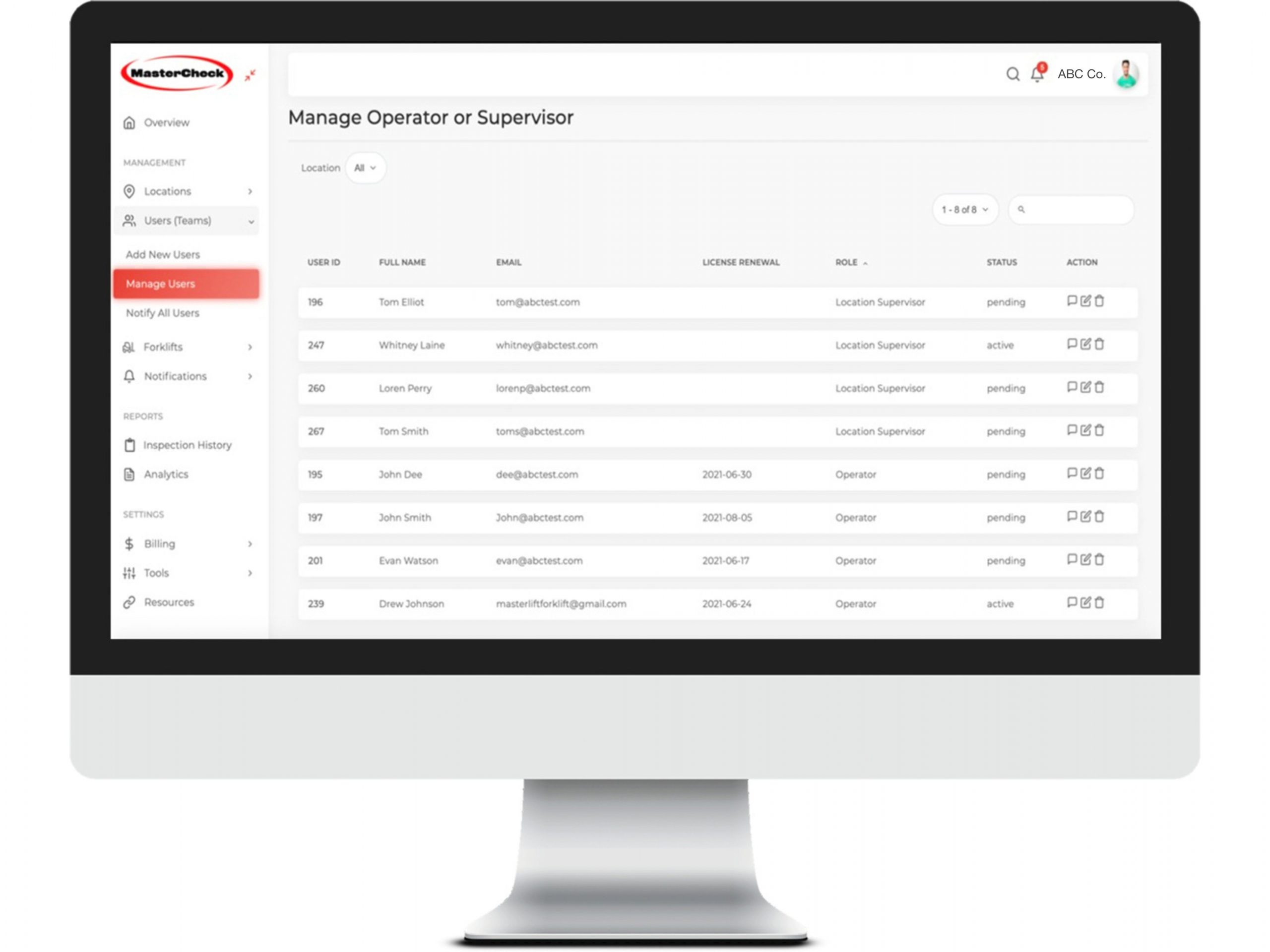 Manage supervisors and operators
Supervisors can allocate forklift or other units and operators to any number of departments and locations. Inspections and report results can be filtered by location and department or viewed as the entire company. Supervisors can also send notification messages and communicate with all operators or specific operators from the Supervisor Dashboard.
Stay up-to-date with real-time alerts
Supervisors can customize notifications to receive an alert when any type of event or failure occurs. Submitted repair reports can also be set up to advise the company's forklift service provider for immediate dispatch, for example. Lifting device inspection due dates, operator license renewal dates, warranty expiry dates and even planned maintenance due (based on real time hours) notifications can also be set up.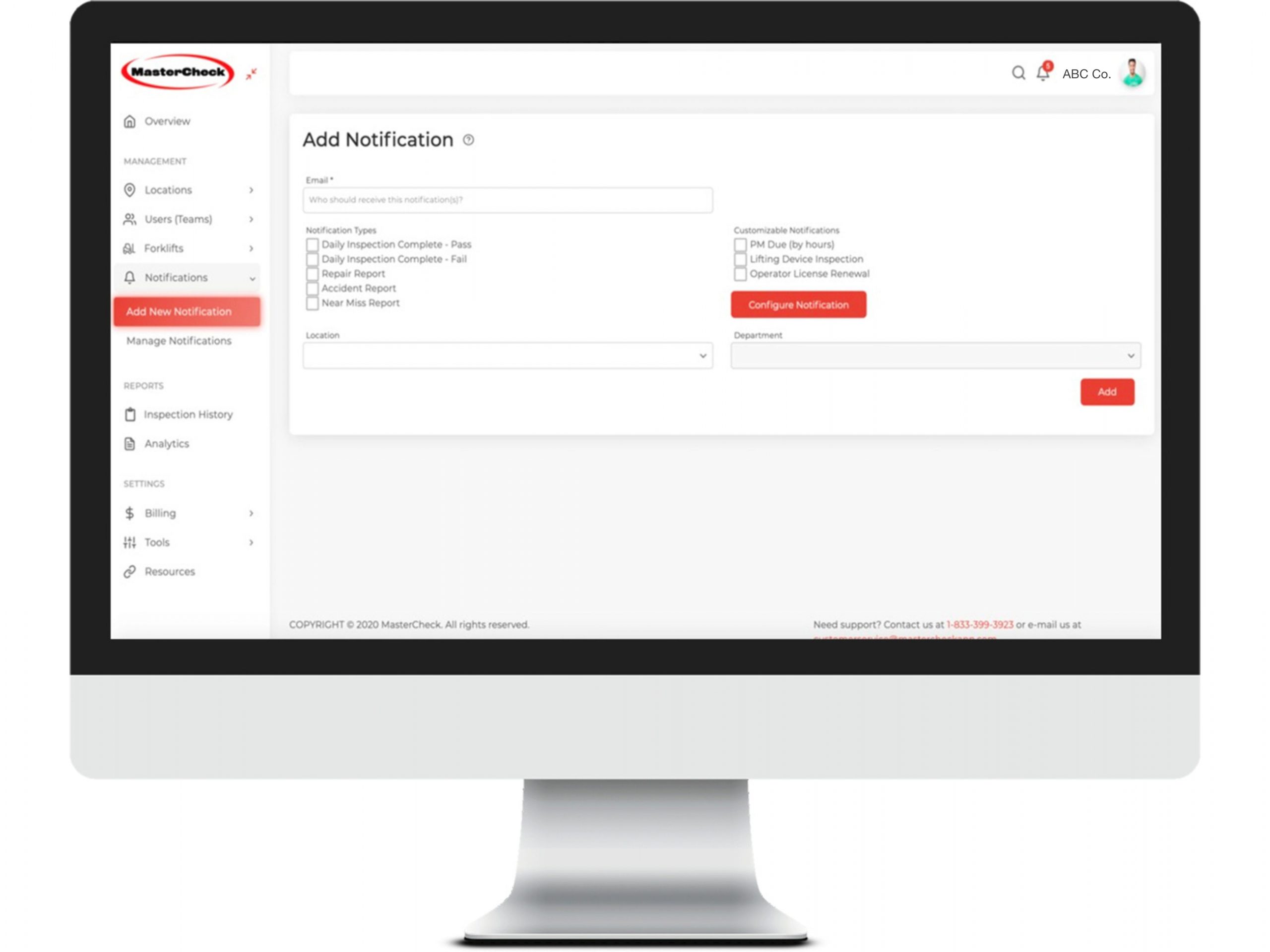 Cloud Storage
No more sorting or saving paper reports in file folders. All inspections and reports are safely saved in the cloud for quick access indefinitely. No worrying about losing your inspections or reports! Our servers are hosted on Amazon.com's industry leading infrastructure, so you'll never misplace an inspection again.
Cost Savings
The typical paper pad solution costs approximately $55 per forklift annually and as much as $165 per forklift annually for a multi-shift operation. At $39.99 per forklift annually with unlimited users and unlimited inspections, you'll start saving day one.
Customer Support
The MasterCheck app and Supervisor Dashboard are designed to be as simple as possible, but sometimes it helps to talk to a real person. That's what we're here for. Even during your free trial, you can reach us via phone or email and we'll be happy to help you out.
Easy Importing
Getting your forklift fleet uploaded to the Supervisor Dashboard is as simple as importing a CSV file. Fields such as unit number, location, department, make, model, and serial number are uploaded in only a few minutes.
Secure
We offer 256-bit encryption and follow best-practices to ensure the security of your data. All your files are encrypted and will be backed up inside the MasterCheck app.
Free Updates
We're constantly working to improve our product, and you'll get future updates for free. The Supervisor Dashboard is web-based so we'll automatically install the upgrades for you so you can focus on other things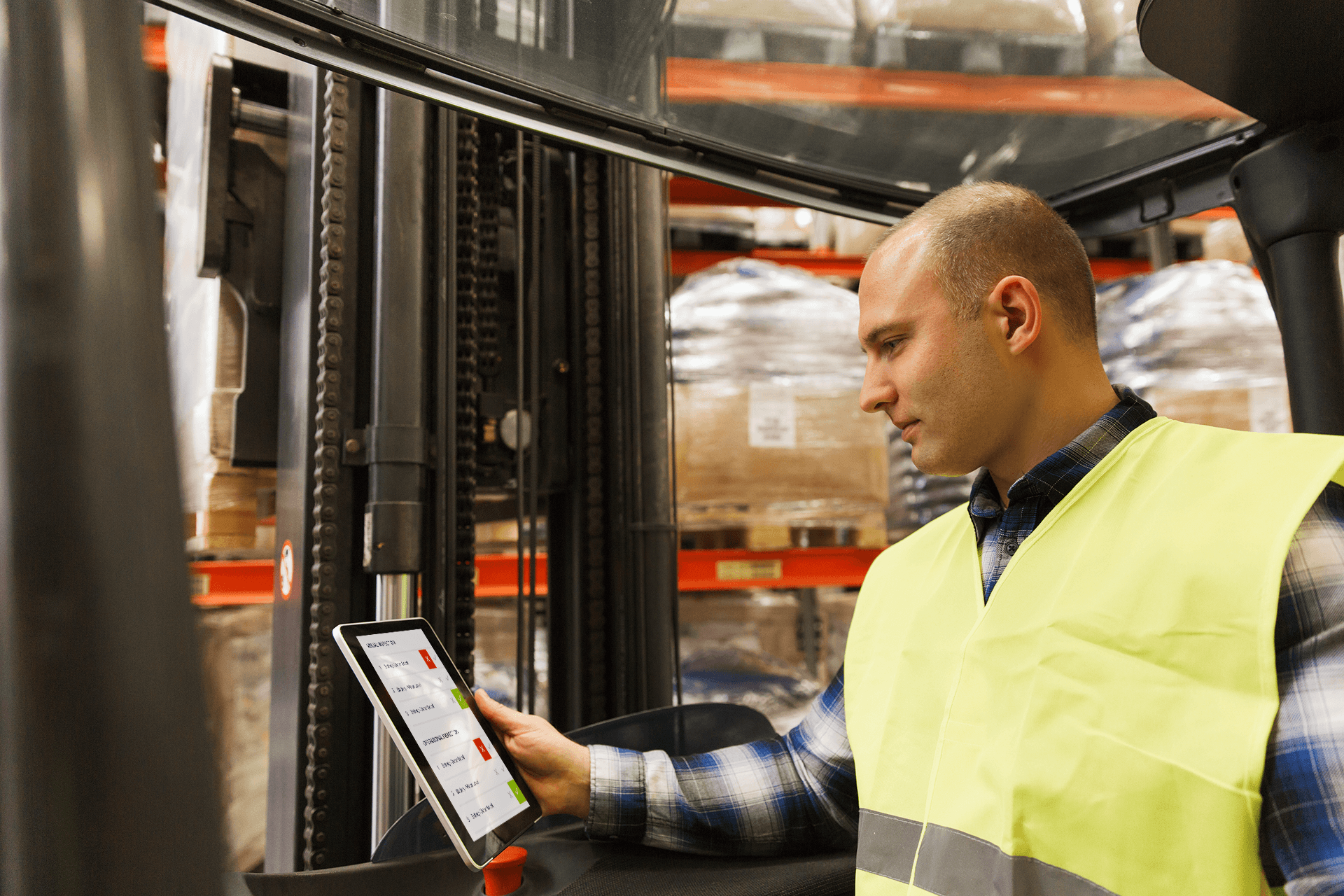 Used by safety conscious companies around the world
We use the app for thirty forklift trucks in our locations throughout North Carolina and Texas, and it's saving us a tremendous amount of time and paperwork.

Glen Wegel

VP Operations, Kitchen Cabinet Distributors
Going paperless with the MasterCheck app was an easy decision. It's costing us less than paper and the analytics we can now view are very valuable.

Hasan Afroz

Owner, Approved Cold Storage
We're using the MasterCheck app and it couldn't be easier for my operators. Going paperless is a huge advantage!

M. Ciric

Operations Manager, Touch Of Tint Inc.
I am using the reports and they are very effective, especially the ability to take pics.

Eric J.

Warehouse Manager, Suja Juice
Flexible pricing that works for you
App + Supervisor Dashboard
Most Popular
$

39.99

Per Forklift (Or Other Type Of Unit) / Year - Most Popular

• Manage unlimited operators, departments & locations

• Use unlimited inspection and report forms with photos

• Full customization of inspection and report forms

• All inspection and reports saved in the cloud for easy viewing or printing

• Full suite of analytics on forklift and operator performance

• Customize critical occurrence notifications and alert

• 30-day free trial period

Start Your Free Trial
App + Supervisor Dashboard
$

6.99

Per Forklift (Or Other Type Of Unit) / Month

• Manage unlimited operators, departments & locations

• Use unlimited inspection and report forms with photos

• Full customization of inspection and report forms

• All inspection and reports saved in the cloud for easy viewing or printing

• Full suite of analytics on forklift and operator performance

• Customize critical occurrence notifications and alerts